2023 Texas Watermelon Queen
Savannah Carr
Savannah is the 20 year old daughter of Sid and Gretchen Carr from Boerne, Texas. Savannah is currently attending Texas A&M University where she is pursuing a BA in Horticulture. During her free time Savannah enjoys hanging out with her friends and family. Savannah said " I'm honored to represent the TWA and can't wait to start traveling and learning more about the watermelon industry! I'm so excited to kick off the year as I represent the Texas Watermelon Association as your 2023 Texas Watermelon Queen!"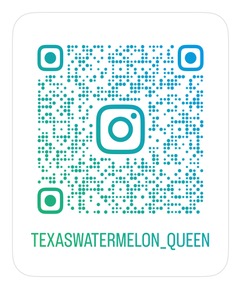 If you would like to schedule an appearance of the 2023 Texas Watermelon Queen, please contact the Texas Watermelon Promotions Coordinator, Barbara Duda.
(956) 605-7636 bcduda62@gmail.com